August 7th, 2009
Since it's alomst 3 years ago since the last update on my life, written in this lingua franca, I will once again sum things up.
Let's see.. to continue where the last update ended; everything came to a good end. I did get to see the annular solar eclipse in French Guiana. The possibility to combine a trip there with both viewing the sun partially getting obscured by the moon shortly after sunrise from a beach overlooking the Atlantic Ocean, and the planned launch of an Ariane rocket made it really, really worthwhile to undertake that trip. Eventually, it turned out to be too good to be true – the rocket launch was postponed till after my flight back home, but, wow, I did have a lovely holiday. I spent a night in a hammock on an open boat in the middle of piraña infested waters, in the middle of one of the most breathtaking natural reserves you can imagine, where I woke up to the call of birds while the fog crept up the hillslopes in the distance. Drove all the way from Cayenne to de border with Suriname, and crossed the Maroni to visit places like Albina and Bigiston.
Needless to say, I took numerous photos during that trip.
Also, obtaining a new job turned out to be no problem at all. A secondment agency offered me a job, starting right after I returned back home from my trip to French Guiana, and I still work for them. I moved to another place, too. In may 2008, I moved to a small commuter town named Weesp.
Also in that year, yet again, I got to see a solar eclipse. A total one, which I observed from the banks of the river Ob in the city Nizhnevartovsk. Of course this was combined with a nice trip through Russia with stops in Yekaterinburg, Moscow and Golden Ring cities like Vladimir, Suzdal and Sergiev Posad. Both the Diamond Ring and the Golden Ring, combined in a single trip… not bad!
Speaking of rings… this year, too, I managed to see the total solar eclipse. Since it would be the longest one of the century, it sounded like a good plan to go for maximum duration. Which happened to happen at sea, where, luckily, a cruise ship would be present. Passengers and staff of this ship got to see a whopping six minutes, forty two seconds and three tenth of a second of totality. A period of darkened skies long enough to gaze upon that big hole in the sky in total awe, look around to see the twilight colors on the horizon, all around you on this big, big, almost ripple free ocean, see planets and bright stars appear in the sky, and for Peter Rogina and Kirsten Conant it was even long enough to pop a question, and a bottle of champagne afterward, since they decided that for them it would be a good thing to get engaged.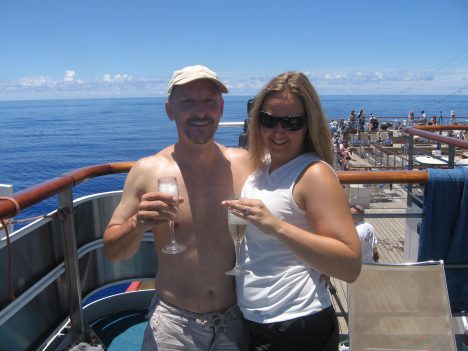 Peter and Kirsten. Best wished to them for the future.
For the rest, this cruise was a wonderful opportunity to see some more of the word, with port calls in South Korea, Japan and arrival in China. Finally, I can say that I climbed the Chinese Wall and walked in the Forbidden City.
Unfortunately, the high temperatures and the draft of air conditioners left their marks. At the moment, I'm feverish and sneezy.